iEM Inserts and Adaptors
As part of our punching solutions, Matrix have designed, developed and produced the iEM inserts for Thick Turrets.
This is a patented system that overcomes the compromises of the past to guarantee the same performance as traditional one-piece punches.
IEM inserts for thick turrets: simple to use, excellent results
These inserts can be used directly in the punch-holders of the new EMX Thick Turret line, without the need for adapters.
Alternatively, for punching machines that are already fitted with punch-holders, Matrix have developed special adapters that allow them to be used in all the most common holders on the market. As a result, the iEM inserts can also be used in Standard (metric), AirBlow and W90 systems.
The set composed of adapter+insert is an accurate and solid single body, just like a traditional one-piece punch, thanks to a simple mechanical locking system. A common hex key is sufficient to secure the insert, without limiting performance.
There is no clearance that compromises tool durability.
The amount of sharpening is also the same as for one-piece punches.
Compared to traditional systems, however, the iEM inserts have two timing slots (0° and 180°), multiplying the references for the punch-holder and bringing maximum flexibility to your punching processes.
The IEM inserts are universal, reliable, solid, accurate and easy to assemble, as well as being more cost-effective.
Matrix: leader in punching solutions
The Matrix quality guarantee is the result of decades of experience in the punching sector. It allows you to save up to 60% compared to purchasing one-piece punches.
And it doesn't end there. Titanium nitride (type A) and aluminum-titanium nitride (type B) coatings are even more cost-effective.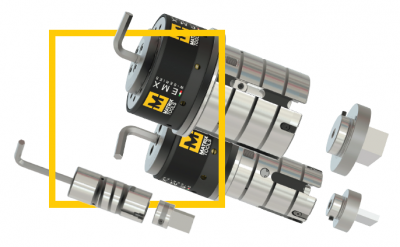 iEM INSERTS: from b stations to c, d and e stations, maximum compatibility
With the iEM inserts system, MATRIX can guarantee smart and cost-effective tool management along with high performance.
The insert-holder adapters are made of suitably treated steel, capable of withstanding the stresses typical of machining while maximizing tool life. This delivers tangible savings in terms of spare parts while maintaining the same level of performance accuracy.
The insert-holder adapters produced by Matrix for B, C, D and E stations feature a simple and accurate mechanical locking system. This means that the advantages of the iEM inserts can also be enjoyed on punching machines already equipped with the most common punch-holders: standard, Air Blow, W90 and lubricated.