iEM Inserts and Adaptors
It is a patented system that overcomes the compromises of the past to guarantee the same performance as the traditional integral punch.
iEM inserts can be used directly in the punch-holders of the new Thick Turret EMX line, without any adaptors.
Alternatively, for the already equipped punching machines, Matrix has studied special adaptors for all the most common punch holders on the market. It is therefore possible to use iEM inserts also in Standard & AirBlow and W90 systems.
The adapter + insert joining is a single solid body, as precise as the traditional integral punch, thanks to a simple mechanical locking system.
A common hexagonal key is enough to fix the insert, without performance limitations.
There are no clearances that compromise tool life.
Also the sharpening life remains the same as the integral punch.
Compared to the traditional system, however, the iEM insert has two slots (0 ° and 180 °) which multiply the references of the punch holder bringing maximum flexibility in your punching operations.
iEM inserts are universal, reliable, solid, precise and simple to assemble, but also more convenient.
Matrix quality assurance, the result of decades of experience in the punching industry, allows you to save up to 60% compared to the purchase of integral punches.
And it doesn't end there. Titanium nitride (Type A) and titanium-nitride (Type B) coatings are even more convenient.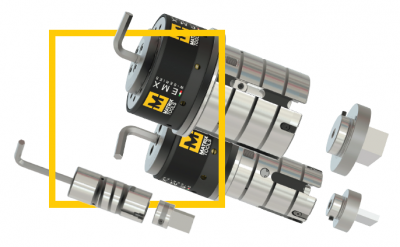 Contact us to request an offer for your punching machine tooling
Download the EMX Thick Turret catalog to switch to the iEM insert system
Download the iEM brochure to discover all the advantages