iEM inserts for Thick Turret B Station
A high-performance system with cost-efficient tool management: the new iEM inserts and adaptors . (lubricated, standard, W90 and Air Blow).
The end user who has different punch holder brands can use the same identical insert without thinking about the technical specifications: the iEM insert is fully compatible with every holders in the market.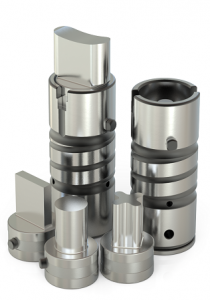 Insert-holder adaptors are made from suitably treated steels to guarantee their long life and resistance to stress during machining.
The iEM system (insert + adaptor) is a single solid body, rigid and precise with the same performances as traditional punch but much more reliable than the other inserts systems in the market.
The locking system is easy to use and solid because the insert is mechanically blocked through a metric screw, no special keys are needed.
Less wear, less break risks, more punching life and reliability.
The inserts, produced with the quality that has always been our hallmark, ensure significant savings in terms of spare part purchases and figure changes, and guarantee high performance.
In addition to this they offer the advantage of 180° figure rotation, multiplying the orientation possibilities of insert punches compared to standard integral punches.  No insert system currently achieves this processing flexibility.
Both the size of the adaptor with insert and the cutting dimension (maximum diameter/diagonal 31,7 mm) remain those of the original punch, thus ensuring full compatibility.
Contact our sales office in Matrix and find out that you can save up to 30% maintaining the same performance and with an easier tool management!
+39 0445 671015